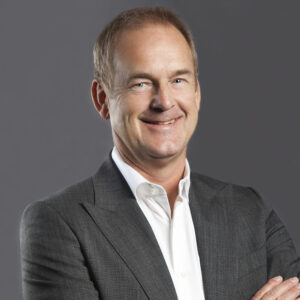 Gert-Jan ("GJ") van den Akker is responsible for strategy and execution for Cargill's agricultural supply chain businesses. He joined Cargill in 1987 in Amsterdam and held a number of positions across Cargill's agricultural supply chain businesses, including roles with palm oil by-products in Kuala Lumpur, domestic grain markets in Tokyo, and corn and soybeans in Geneva.
GJ has also held leadership roles in Cargill's energy, transportation and metals businesses. He was managing director of the worldwide ocean transportation business from 2007 to 2011.
In 2013, he left Cargill to become senior head of global regions at Louis Dreyfus, a privately owned food and agriculture company. He was a member of Dreyfus' senior leadership team, a member of the Dreyfus risk committee and leader of business development in the grain and oilseed sector. He re-joined Cargill in December 2015.
You spent much of your career in shipping. What did you learn from your time in shipping that helps you in your current job?
I learnt that to be successful in commodity trading, you have to have a physical presence and a deep understanding of what is happening in the physical markets. That is clearly something that helped us as we built up our shipping operations. We had good insights into the physical movement of goods; this helped us with our trading.
Second, I learned the value and importance of building customer relationships. We were an operator, not an owner, of ships, and we had to provide our customers with a better service than any ship owner could. Sometimes it was on price, but more often it was flexibility. I also learned the importance of having very strong supplier relationships. At Cargill we treat our suppliers as if they were customers.
What does your current position entail?
Cargill is made up of four divisions: agricultural supply chain, animal nutrition, protein and salt; and food ingredients and bio-industrial. I oversee the agricultural supply chain business, what I would call the "original" Cargill. It includes everything that relates to grain, oilseeds and agricultural products, from origination along the whole supply chain to destination and distribution. It also includes all our oilseed crushing activities around the globe and includes our sugar business, Alvean, a joint venture with Copersucar, as well as our palm business.
Also, I am a member of what we call the Cargill Executive Team, a group of ten people who are accountable for strategy and who oversee the global enterprise.
What in your career has been the most challenging and what has been the most fun?
That's a good question. I had the most fun in the shipping business. It was such a phenomenal time. I like businesses where you can invest and grow.
Without a doubt, the position I have today is the most challenging, simply because of size and accountability. It takes a huge amount of effort to grasp and understand the complexities around the world, and to manage all the different elements that impact agriculture markets. In addition, since I took on this role, we have had to make some pretty tough decisions around our portfolio of businesses. There are certainly areas where we continue to grow, but we have also taken some assets out of our portfolio. That is never fun. It often comes with job losses. Even so, although we have been managing the portfolio, our overall business has continued to grow.
Today's environment is in itself a challenging one for commodity traders. The margins are thin, so you have to be on your toes. That puts a lot of pressure on me personally.
How have you managed your work / life balance—the stress?"
Commodity trading requires a high level of resilience. Markets don't always go in your favour, and that can be very stressful.
I have been very fortunate in that I can see the relativity of things. I can go back home in the evenings, have dinner with my wife or family and I can let things go by. I can empty my brain of work. It doesn't always happen, but generally speaking I can relax.
I do some exercise. I play golf. I am a mediocre player—a handicap of 15—but I enjoy it. I also spend quite a bit of time in the gym, although apparently not as much as Chris Mahoney. I love hiking. Working here in Geneva is great because it allows you to get out into the mountains in the weekends.
Good traders only talk about their bad trades—what was your worst?
I have had bad trades, but I am not sure that I want to recall them! Maybe I could tell you instead about what could have been anyone's worst nightmare of a trade. This was back in 2009 when I was in charge of the shipping business and we had a lot of ships chartered out. Shipping rates collapsed: Capesize rates dropped from $200,000 per day to $5,000 per day in one month. Our market exposure was huge and we were worried that our charterers would default. We had to manage that exposure and ensure that we got contract performance. It took a year out of my life, but by and large we came out okay in the end.
Are markets your "passion" in life—or is it golf?
Neither! My family comes number one in my life, so if I have a passion at all, it is for my family. Managing my work / life balance has been one of the biggest personal challenges. It is tough to find the right balance. We have all made the mistake at some stage in our careers of not spending enough time with the family. But the older I get, the more I understand the importance of family. Even though my children are now grown up, I love seeing how they are getting on.
I am fascinated by—rather than passionate about—markets. I always have been. There are so many different variables that impact price. I enjoy the intellectual challenge of trying to work out what variable will have the most impact at any given time."
How have the grain markets changed since you began in 1987?"
Although this may surprise you, I don't think they have changed much; the business models have not really changed. Cargill's function for the past 150 years was to be a global supply chain manager – to move food from farm to fork. Cargill has never farmed, except in the palm oil business where we operate plantations in Indonesia and pride ourselves on setting the highest standards in the industry. Instead, we build relationships with farmers, we acquire grains and oilseeds from them, we store them, we trade them, hedging our risk on the futures exchanges. We transport them, and we arbitrage between domestic and world markets. That has been what we have always done and that is still what we do!
What has changed a lot recently is the availability of new technology and data—and new ways to analyse that data. Cargill has always been at the forefront of data collection and analytics. We have always understood the value of data, whether proprietary information on the back of the businesses we are involved in, or publicly available information, such as weather.
Today, there is much more data available, and we have to able to analyse it, but our basic supply-chain business model has not changed.
Having said that, I believe the biggest change in the grain business is yet to come. With advances in technology the requirements to be successful will change, as will the services that you provide to your customers. The newer generation of farmers are latching onto technology in terms of production, and they now want to transact in a different way than they used to transact. That is all changing. Those relationships are going to change along with technology.
Is there going to be consolidation?
I think the market will consolidate to deal with excess capacity, but please don't ask me how that will happen because I don't know. It doesn't have to be among the big five or six companies.
The last time we were in a situation of excess capacity was in the late 1980s and 1990s. We saw two huge players exiting the market because they no longer thought that the risks were worth the rewards. Could that happen again?
 Players come and go – that will never change. The way that the industry manages risk is going to have to change. In today's world, you need the right talent, as well as investment in IT systems. In that sense, scale is critical—along with a physical presence. It will become increasingly difficult for companies with no scale or significant physical presence to participate in this business.
However you have to guard against bureaucracy. You can't let bureaucracy stifle trading or discourage talent. There are still things we at Cargill must do to improve, but we know that adding layers of bureaucracy adds to costs. You can't blow up the costs, stay competitive and be successful.
The full interview will be published in my upcoming book, "Out of the Shadows: The New Merchants of Grain."
© Commodity Conversations ®