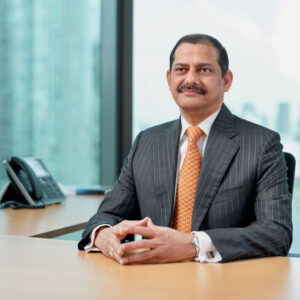 Good morning, Devashish. Could you please briefly describe your career so far and your current role within Olam?
I am head of rice and speciality grains within Olam. When I say speciality grains, I mean superfoods like quinoa, chia, and sorghum.
How significant a business is rice for Olam?
Rice currently employs roughly 2,000 people, and we rank second in terms of global volumes traded.
We operate a large rice farm in Nigeria – and we are a significant player in Nigeria's domestic rice market.
In geographies such as Vietnam, we operate mills but also buy rice from millers. In origins where we don't have mills, we buy rice from millers and then upgrade/reprocess the rice to our customers' specifications. We have reprocessing facilities in Thailand and India that upgrade milled rice.
We sell to importers in various geographies, and in some we import ourselves and distribute the rice through the general trade and modern retailers.
 What are the biggest challenges that you face as a rice trader?
Counterparty risk is the biggest challenge for rice traders generally. The challenge is to build a deep sense of reliability and faith with your customers.
Managing price volatility is our second challenge, especially with climate change. In 2008, there was a drought-induced production shortfall in SE Asia and this severely impacted world trade flows and price. Any production shortfall in a major producer can have a significant impact on price. One example is Australia. The country swings from an excellent crop to a small crop primarily depending on water supply.
Climate change exacerbates the situation. Up until 2018, Thailand used to produce 10-11 million tonnes of exportable rice. This year, Thailand will export maybe 5-6 million tonnes. Thailand's water reserves available for irrigation have lately not been enough, and they have experienced a rainfall shortage for the past few years. It has affected global supply and driven prices higher.
What are the main sustainability issues in rice?
Rice has more sustainability issues than most other staple crops, ranging across environmental and social issues. When you consider that one-quarter of all the farmers in the world grow rice, you realise how important it is to address these sustainability issues correctly.
Smallholder farmers account for nearly all the rice production in SE Asia. Most are in poor areas, which means a high correlation between rice farming and poverty. There is also a 65 per cent correlation between rice and malnourishment in regions where rice is either the main staple or the largest consumed crop. Rice has significant social issues.
If you take environmental issues, rice is the second-largest man-made emitter of methane after livestock. Rice emits about 12 per cent of all man-made methane and about 2.5 per cent of all man-made GHG emissions. That is significant from an environmental standpoint.
Methane emissions are high because rice is farmed in most areas through flood irrigation. Farmers flood the rice fields to stop weeds from growing. It leads to high methane emissions and freshwater use.
Rice uses about one-third of the world's freshwater availability each year. You need on average 2,500-3,000 litres of water to produce one kilo of rice. Although that sounds alarming, some other field crops have similar figures. But even so, moving away from flood irrigation would not only reduce methane emissions but would also reduce water withdrawals.
Tell me a little about your farm in Nigeria.
At one time, Nigeria was the world's second-largest rice importer after China, buying between 3 and 4 million tonnes a year – spending a lot of precious foreign exchange in the process.  Nigeria has the climatic conditions, the land, the people, and the water resources it needs to grow rice.
About ten years back, the Nigerian government encouraged their population to take up rice farming, giving them incentives to do it. The government also encouraged corporate investors to begin rice farming, giving out tax incentives and providing them with tracks of land with adequate water resources.
Olam now manages 13,000 hectares of contiguous land in Nasarawa State in central Nigeria, of which we farm 4,500 hectares. We keep some in preserved lands, forests, wetlands etc., to encourage biodiversity.
We realised that the only way we could farm 4,500 hectares would be to have it fully mechanised. Our farm is probably one of the most modern rice farms that exist. It is fully mechanised and integrated. We have a rice mill at the farm where we mill the paddy. We seed, apply fertiliser, pest and weed care aerially. All our harvesting is mechanised.
We run a large seed development unit on the farm. Historically, there has been insufficient investment into developing high-yielding seed varieties suitable for Africa. When we tried the rice varieties that grow in Asia, we found that they were often not suitable. The soil and the agroclimatic conditions are not the same. So, we set up a research and development centre and a plant breeding station. While the varieties we currently grow on the farm are bred by research agencies in Asia and Africa, we should have in-house varieties over the next few years.
Has the project helped the local community?
Although fully mechanised, our farm has brought employment to a rural area where little existed before. We have also built schools and clinics.
But that is the minor part of what we do. The more significant element is the out-growers programmes that we run for about 32,000 growers. We share developments that take place on our farm, whether in varietals, nutrition or pest and disease management.
Wageningen University has studied our out-growers programme in Nigeria. Our out-growers programme raised incomes, got more women and young people involved, and improved environmental sustainability. Farmers are now conscious and more concerned about the environment than they were before. Furthermore, our interventions are reducing food loss in the value chain which, for our farmers, is 30 per cent.
Thank you, Devashish, for your time and input!
This is a short extract from Commodity Crops & The Merchants Who Trade Them available on Amazon.
© Commodity Conversations ® 2022