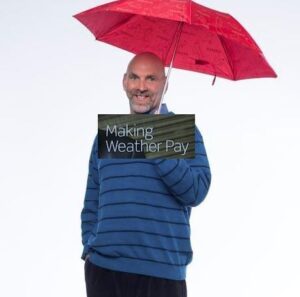 Could you please tell me a little about yourself and your company Best Weather Inc?
The weather has fascinated me since I was a boy growing up in New Jersey. I studied at a small college in Vermont, where my professor started the Weather Channel. I had long hair, and my professor felt that my hippy look – combined with my strong New Jersey accent – would limit my TV career. He suggested I do something else.
In 1982, I drove my beat-up VW bus 2,000 miles to Iowa, where I worked for many years for a small firm called Freese-Notis Weather. I joined the company knowing nothing about farming, but by the time I left ten to fifteen years later, I had the equivalent of a PhD in agriculture! While there, we built up their commodity advisory business with significant agricultural and food companies as clients. I learned about the importance of weather in the commodity sector.
I intended to return to school to study agricultural meteorology but decided to start managing some discretionary money, trading in the markets for clients. I didn't have the personality for it and couldn't handle the stress. I earned enough to send my sister through law school but decided that my real forte was in client advisory. I started Best Weather Inc in 1999 and became chief meteorologist for Blenheim Capital Management and other hedge funds.
In recent years, I have shifted focus to smaller clients – particularly in the farming community – and launched a couple of newsletters with trade recommendations. In addition to the weather, I look at climate change and produce long-range forecasts on yields etc.
They say that weather is the most critical driver of agricultural commodities, but politics currently has a firm grip on the steering wheel. Is the weather going to soon get back into the driving seat?
The weather has taken a bit of a back seat since the Russians invaded Ukraine, but agricultural commodity prices were already rising long before the war. There are some serious weather concerns out there.
South America has seen their worst drought in 35 years, which has significantly impacted soybean prices. It was too hot and dry in December and January, and although the situation is improving, it is a little late for the soybean crop. Soybeans pollinate and develop from December through February in South America. Recent rains may even negatively impact yields if they delay or slow the  Argentina grain harvest.  A wet spring in the U.S. could also delay Midwest corn and soybean planting for the next crop.
Last year, much of central and eastern Russia saw one of its worst droughts in 15-20 years.
Drought also hit the northern US plains and parts of Canada. We could see an easing of the drought in the Western Plains this year, but the moisture deficit is still severe from Colorado to West Texas and the Southwest. Water levels in the Colorado River have fallen significantly over the past few years.
China had a dry winter, but we expect to see more moisture during the April / July period. It could improve things pre-harvest.
Flooding in central and eastern Australia impacted their wheat harvest, but overall, this moisture is probably beneficial for Australian agriculture. The only concern is the far southwestern parts of the country.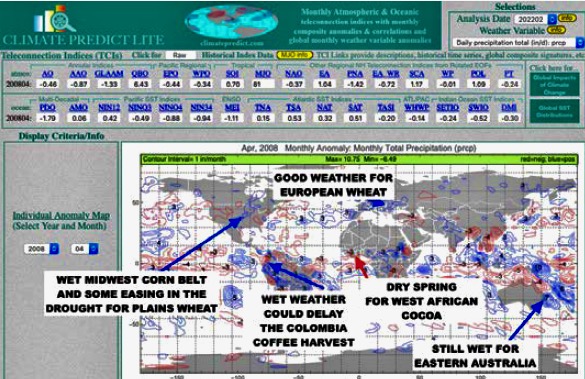 Reading between the lines, you sound bullish corn and beans and bearish wheat?
As you said, politics and not weather currently drive the markets. Wheat depends on the Ukraine war, and that is tough to predict.
Also, wheat is grown in five of six countries, and you must get the weather right in all of them to get the market right. It is not easy to do.
The developing La Nina could be beneficial to many crops and take some of the sting from food inflation. Last year we had a whole series of weather problems. We are expecting fewer this year.
Compared to last year, I am more optimistic about most agricultural commodity yields for this harvest. Things could change going into the Northern Hemisphere summer, but for the moment, I am more bearish than bullish on the agricultural complex. Politics aside.
What about coffee?
Last year, Brazil's coffee areas had their worst freeze in thirty years. Coming on top of the drought, coffee prices doubled.
There was also a drought in NE Brazil. Part of that might result from deforestation. It is hard to quantify the effect that deforestation has on local weather. Still, the data suggest that deforestation leads to more frequent and more severe droughts in northern Brazil.
La Nina could bring wet weather to Colombia and may delay the coffee harvest, negatively impacting coffee production. While prospects for Brazilian coffee production are improving, I would flag Colombia as a risk. However, I am bearish on coffee longer-term and have advised my Weather Wealth newsletter clients about selling call options.
I hadn't thought of the effect of deforestation on local weather.
It is not just local weather. The smog from the Amazon fires goes into the stratosphere and can change the weather thousands of miles away.
To what extent is climate change already affecting the weather?
Climate change is undoubtedly making it harder to predict the weather. You may see variables coming together as in the past, but climate change changes how those factors play out.
We can put the pieces of the puzzle together and say, ah, this looks like 1978 or 1964, or whenever, but because of climate change and the warming oceans, you must adjust your predictions. It is not easy. Sometimes warming oceans can create colder conditions like last year's Texas freeze. There are many variables.
I have an in house weather software program called climatepredict that looks at historical climatic variables, adjusts them for climate change with predictions sometimes months in advance.
Are you an optimist or a pessimist regarding climate change's effect on agricultural production and yields?
Climate change leads to more frequent extreme weather events such as droughts, floods, freezes etc. It makes it harder for farmers to produce the food that we need.
Global warming is shifting the agricultural belt further north in the northern hemisphere, bringing new areas into production. Against that, hot and dry conditions further south make it more challenging for farmers in some developing countries.
But remember, there will be a lot of fluctuations from year to year, and the "normal" is made of extremes. Over the next 20-30 years, climate change will exaggerate those extremes, resulting in record crops in some areas and crop failures in others.
Which crops are the most vulnerable to climate change?
That is a tricky question, but the first would be coffee. The coffee belt is situated around the equator and is vulnerable to heat and moisture stress.
Many of the world's wheat areas are susceptible to insufficient moisture. We saw this last year, and it may be a feature going forward.
Cotton and almonds are also susceptible to droughts. We could see significant variations in production from one year to the next, depending on moisture levels.
Luckily, grapes like dry weather – so wine production could benefit from global warming. There is some good news, at least!
What about cocoa?
Interestingly, warming oceans in the Gulf of Guinea and to the south of West Africa tend to correlate with normal to above-normal rainfall in West Africa. To this extent, warming oceans could benefit West African cocoa yields.
Any other thoughts?
Yes, two.
First, we must find new technologies such as carbon capture to fight climate change. The decarbonization of the global economy presents enormous opportunities for investors in the renewable energy space.
Second, weather and politics are the two most significant drivers of agricultural commodity prices, and everyone in the markets needs a good weather service!

© Commodity Conversations ® 2022