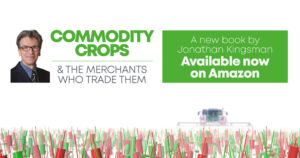 After increasing 13 per cent in March, the UN FAO food price index fell about one per cent in April. Vegetable oil and grain prices dropped, while meat and dairy prices increased.
Up to 20 million people could go hungry this year In the Horn of Africa as delayed rains exacerbate the worst drought in four decades.
Some people are asking if the world is running out of grain.  Although that is unlikely, Arab countries are building stocks and have increased food shipments from Brazil. The US administration is taking the issue seriously enough to organise a conference in September on food security – the first in 50 years.

All eyes are on the weather in India, where a record heatwave could decimate the country's wheat harvest. There is market talk that India could limit wheat exports, hurting neighbouring countries the most.
India exported a record 7.85 million tonnes in the fiscal year to March – up 275 per cent from the previous year, the government faces a dilemma this year as to whether to export any surplus or keep it at home to dampen inflation.
The French wheat harvest could also face challenges., although the EU's Agriculture Commissioner says that "the EU itself does not face a food security risk". The FT disagrees, arguing that shortages of diesel and fertiliser put production at risk. The FT also writes that Turkey's farmers face hard times following the collapse of the Turkish lira and a surge in input costs.
As of 5th May, Ukrainian farmers had sown 7.1 million hectares, about half of their forecast acreage. Spring wheat planting is now 97 per cent complete, compared to 89 per cent on the same date last year. Even so, satellite images suggest that the country's wheat crop could fall by 35 per cent compared to the previous year.
Ukraine has accused Russian forces of stealing "several hundred thousand tonnes" of grain in the areas of Ukraine they occupy. There have been unconfirmed reports that stolen grain is being exported from Russian ports.
Ukraine could have a significant shortage of storage facilities due to a sharp fall in exports. At the end of the current season, oilseeds stocks might reach an all-time high of 21.3 mln mt.
Ukraine hopes to grow export capacity by 50 per cent in the next few months by expanding facilities on its western border, but it will still be far short of pre-war levels. The country exported 3.5 mln mt of cargo by rail last month. The UN FAO says that 25 mln mt of grain are stuck in Ukraine it doesn't know when it can be accessed. A spokesman called the situation "grotesque".


The cost of insuring merchant ships sailing to ports in the Black Sea has spiralled out of control, with underwriters charging as much as 10 per cent of the value of the vessel's worth as an additional war-risk premium.
India plans to cut taxes on some edible oils to lower domestic prices. The BBC believes that the war in Ukraine and the Indonesian export ban are "a wake-up call" for India. However, India's government says they are not worried about the export ban as the country has adequate stocks, and Indonesia has "no option other than export." (The EU also says it has enough supplies to ride out the ban.)
Malaysian palm oil production should pick up with workers returning to plantations as the Ramadan season winds down. Malaysia's domestic palm oil stocks are rising.
The Indonesian government's vegoil policy measures are testing the country's patience. Indonesia earned US$35.5 billion from 26.9 million tonnes in total palm oil exports last year, the most important markets being China (4.7 mln mt), the European Union (4.0 mln mt), India (3.03 mln mt), and Pakistan (1.6 mln mt).
Analysts expect fertiliser makers to post their biggest quarterly profits in years. They warn that supply disruptions could extend beyond 2022 and could even worsen.
Vietnam's coffee production may fall ten per cent this year as farmers plant more profitable crops like avocados, black pepper and durians, helping them cope with the high fertiliser and fuel costs.
Australia's biggest investment bank Macquarie Group saw full-year net profit up 56 per cent from the previous year to a record A$4.7bn ($3.3bn). Commodity earnings were up 50 per cent to A$3.9bn.
Maersk reported its best earnings quarter ever in Q1 2022 with a 55 per cent increase in revenue to $19.3 billion. EBITDA more than doubled to a record $9.1 billion. The company's CEO told Bloomberg that it wrote down more than $700 million as the transport giant counts the cost of exiting Russia. Cargill and General Mills, however, continue to do business in Russia.
Drewry estimates the world's container-line industry may make $300 billion in profits this year, up from $214 billion in 2021, before the windfall settles back to around $100 billion next year.
But even as container shipping companies report record profits, the cost of new containers is falling. Some suggest that this indicates a tipping point (Container ship charter rates are also cooling.) Meanwhile, thousands of containers are piling up in Rotterdam Port because of the sanctions on Russia.
Half a tonne of cocaine has been found in a container of coffee bean bags at a Nespresso factory in Switzerland. Europe is increasingly becoming a hub for the production and transhipment of cocaine. (Drugs have been turning up in commodity shipments for some time now.)
Louis Dreyfus has used a B30 biofuel-blended marine fuel for the first time to sail from LDC's orange juice terminal in Ghent, Belgium, to LDC's terminal in Santos, Brazil, and back again.
The World Health Organization has declared an "obesity epidemic" in Europe after finding that 59 per cent of the continent's adults are overweight. Turkey and the UK are among Europe's fattest countries. Meanwhile, a UK study has discovered that (as every parent already knew) adolescents don't eat a healthy diet.
A NASA climate research scientist who has spent much of her career explaining how global food production must adapt to a changing climate won the World Food Prize.
Reuters has a long read on the start-ups looking to use Artificial Intelligence to improve supply chains.
And lastly, Bloomberg subscribers can listen to this podcast by Javier Blas explaining how commodity trading companies "really work."
© Commodity Conversations ® 2022
Many of the above links require subscriptions. Please support quality journalism.