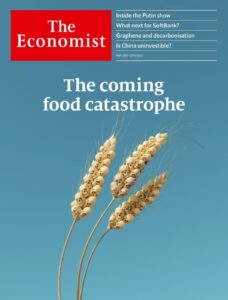 The Economist has an alarming cover this week (zoom-in), but the UN secretary-general is on the same wavelength, warning that the Ukraine war, warming temperatures, and pandemic-driven supply problems threaten to "tip tens of millions of people over the edge into food insecurity." The FT agrees, arguing that food insecurity is a bigger problem than energy, and the Governor of the Bank of England says a surge in food costs could have "apocalyptic" consequences for the poorest people in society and the global economy.
The US Treasury Secretary agrees Russia's invasion of Ukraine has created a global food crisis,  and the US Secretary of State has accused Russia of using food as a weapon. He demanded that Russia lift its blockade of Ukraine's Black Sea ports to enable the flow of food and fertiliser around the world.
The deputy chairman of Russia's security council, a former president of Russia, replied that Russia would not lift the blockade unless the west eased its sanctions on the Kremlin. "Countries importing our wheat and other food products will have a very difficult time without supplies from Russia. And on European and other fields, only juicy weeds will grow without our fertilisers," he said.
Germany's Foreign Minister countered, "We must not be naive. Russia has now expanded the war against Ukraine to many states as a war of grain. It is not collateral damage; it is an instrument in a hybrid war intended to weaken cohesion against Russia's war."
Ukraine is trying to find ways around Russia's naval blockade, and the US is looking to end it by supplying Ukraine with advanced anti-ship missiles.
About 300,000 tonnes of Ukrainian wheat that Egypt's General Authority for Supply Commodities (GASC) bought for delivery in February and March is yet to be shipped, with one cargo stuck in port and four others still to be loaded. Ukraine's farmers are struggling to find storage for the summer crops and will use more silo bags.

Wet weather is delaying planting in the US Midwest. Farmers in North Dakota have planted 8 per cent of their wheat, while farmers in South Dakota have planted 60 per cent. Last year by this week, South Dakota had 90 per cent of its crop in the ground.
French farmers are becoming increasingly pessimistic over the prospects for their wheat harvest, and their crop is deteriorating fast. India's Agriculture Ministry has reduced its 2022 wheat production estimate from 111.32 mln mt to 106.41 mln mt.
The President of AgResource told a conference in Geneva that global milling wheat supply in the 2022-23 marketing year (July-June) could fall short of demand by ten mln mt. He suggests that large milling wheat-consuming countries could use feed wheat for milling.
Although India has banned commercial wheat exports, the country has reportedly sold 500,000 mt of wheat to Egypt. The Egyptian government says the Indian ban does not apply to them. Turkey's Agriculture Ministry reassured citizens that India's ban would not affect them because the country imports wheat only to produce flour and pasta for export. The Sultanate of Oman has said it will replace Indian purchases with wheat from Australia and Argentina.
India's government considers allowing traders to ship an estimated 1.8 million tonnes of the grain trapped at the ports by the ban. The government has already permitted grain awaiting customs clearance to be shipped out, but traders are pressuring the government to relax its ban further.
CNN looks at the background to the export ban and the rising risk of food protectionism, while the Guardian looks at how it affects the country's wheat farmers.


Indonesia has ended its ban on palm oil exports but will reimpose a policy that requires producers to sell a portion of their output to the local market. Reuters has a good explainer on why Indonesia's export ban has failed to dampen domestic vegoil prices, while Bloomberg looks at what the end of the ban might mean for world prices.
Higher vegetable oil prices threaten to drive one-third of the UK's fish and chip shops out of business.
Malaysia's Finance Ministry is still thinking about temporarily cutting the country's tax on crude palm oil export to 4-6 per cent from the current 8 per cent.
Iraq is buying Thai rice again after halting its imports for many years, increasing Thailand's domestic rice prices and raising questions over export availability later in the year. And the recent drought has led to a shortage of mustard in France.
South Brazil's sugar millers have bought back an estimated 200-400,000 mt of sugar to produce ethanol instead.
The US is trying to decide whether it should adjust domestic biofuel policies in the face of the crisis. In Europe, the German government is considering reducing the production of biofuels made from grain or oilseeds.
The USDA released plans to distribute an estimated $6 billion to US farmers in crop disaster payments under the new Emergency Relief Program to offset crop yield and value losses in 2020 and 2021.
The global fertiliser shortage may prove the catalyst that finally allows Brazil to mine for potassium in the Amazon basin. Mexico is also looking to boost their domestic fertiliser production.
Sri Lanka faces a food shortage following the government's decision in April last year to ban the imports of chemical fertilisers. Although the government has reversed the ban, no substantial imports have yet taken place.
In company news, Cargill announced plans for a new soybean crushing plant in Missouri, and ADM has announced it is partnering with California-based Eat Just, a lab-grown meat start-up.
US consumer food prices rose 9.4 per cent in April compared with a year earlier. Still, wholesale food prices increased 18 per cent from a year earlier, suggesting further consumer price increases are in the pipeline. Egg prices surged 220 per cent, butter jumped 51 per cent, and flour 40 per cent.
A famous hedge fund manager recommends investing in commodities as a hedge against inflation, but this study disagrees. If finds that commodities and inflation are not always the perfect fit.
The Guardian argues that one solution to rising food prices would be for all of us to grow more of our food. Bloomberg takes a more realistic approach to the problem, but the Guardian doubles down, arguing that the world food system is on the verge of collapse, just as the world financial system collapsed in 2008. The writer cites a 2012 Oxfam report that "just four corporations control 90 per cent of the global grain trade."
Rising food prices add to poverty, hunger, and political instability concerns. They're also shining a light on the role of agriculture in the climate crisis.  But if you want to reduce your carbon footprint, why not try sailboat coffee?
Finally, if you wonder which foods (and drinks) to buy or grow for your health, this article will give you the lowdown.
© Commodity Conversations ® 2022
Many of the above links require subscriptions. Please support quality journalism.