The UN FAO food price index fell in May for a second consecutive month after hitting a record high in March, although the cost of cereals and meat rose. The index averaged 157.4 points last month versus 158.3 in April. In their biannual Food Outlook, the FAO warns that the global food import bill will reach $1.81 trillion this year, up $51 billion from last year's all-time high.
After jumping nearly two per cent last week, the Bloomberg Commodity Spot Index, which tracks prices for 23 raw materials, is up 36 per cent this year. The latest move was primarily driven by a jump in natural gas and wheat.
The FT has an excellent article on the developing food versus fuel debate (battle). The farming lobby is struggling to counter renewed attacks from the carbon fuel lobby.
With Ukrainian grain silos about half full in the run-up to this year's harvest, the Kremlin reiterated its stance that it will only allow the resumption of Ukrainian grain exports once the West lifts all sanctions. (Turkey has backed Russia's call for ending sanctions.)
The Kremlin that Ukraine must de-mine waters off the Black Sea coast, a task that could take six months.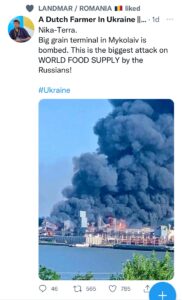 Traders have little confidence that Russia is sincere in its efforts to allow Ukrainian exports after the Russians bombed two warehouses containing sunflower meal at the Nikatera export terminal in Mykolaiv.
Even so, Russian authorities say they are ready to export grains from Ukrainian ports currently occupied by Russian forces – including Mariupol and Berdyansk.
Ukrainian officials accuse Russia of stealing about 600,000 tonnes of its grain. A US official says there is evidence that Russia is exporting Ukrainian grain. A journalist confronted Russia's Foreign Minister on the issue.
The Russian ambassador stormed out of a meeting of the UN Security Council after an EU official accused Moscow of deliberately creating a global food crisis by blocking exports from Ukraine.
The Guardian asks how Ukraine can export 20 mln mt of grain if sea routes remain blocked. The newspaper fails to offer an effective solution. Bloomberg wonders whether the rusty rail tracks along the Danube might provide a solution.
India has exported 469,202 mt of wheat since banning most exports last month. At least 1.7 mln mt of wheat is lying at ports and could be damaged by monsoon rains. Half a dozen countries, primarily Bangladesh and Egypt, have asked India to supply them with more than 1.5 mln mt of wheat.
The first Indian wheat cargo sold to Egypt in late April has reached Alexandria and passed inspection. The Egyptian government says it has enough wheat in state reserves to last until the end of this year but is looking to increase domestic wheat production.
US crop production may disappoint after a dry winter and wet spring in some key areas. (There are fears that this year's Atlantic hurricane season could complicate grain exports.) France's wheat crop still faces a moisture deficit, while the prospect of a normal monsoon in India may encourage farmers to increase acreage. China, meanwhile, is working flat out to bring in their harvest.
The FAO warns that spiralling input costs could deter farmers from expanding production. Farm input prices have increased more than food prices in the past year, suggesting lower actual returns.
Russian restrictions on fertiliser exports could significantly reduce new crop production. Farmers are looking for alternatives. Extracting phosphorous from human sewage could become economic if fertiliser prices stay high.
Undeterred, Nutrien Ltd, the world's largest fertilizer producer, said it will increase its Canadian potash production by 20 per cent by 2025 to an annual 18 mln mt. (However, a glut of fertilizers at Brazilian ports may signal fertiliser prices are peaking.)
There are warnings of famine in Sudan and throughout the Horn of Africa, following the area's worst dry spell in forty years. The EU is worried that food shortages could provoke a surge in immigration and is considering donating about 500 million euros to Africa for food.
Food will be on the agenda at the WTO meeting in Geneva this week (12th – 15th June), although India is expected to block a deal to help the World Food Program buy food for humanitarian aid.
An opinion piece in Aljazeera calls for the WTO to exclude agriculture from free trade agreements to allow countries to become self-sufficient.
Indonesia will reduce its maximum crude palm oil export and levy rate from $575 to $488 per mt to encourage shipments. Since restarting exports, the country has issued around 302,000 mt of export permits. India's palm oil imports in May were their highest in seven months despite the Indonesian export ban.
Palm producers in Malaysia are dealing with a shortage of about 120,000 workers following Covid-related immigration restrictions.
Avian flu has affected nearly 38 million birds in the US, hurting egg-laying hens and turkeys the most.
A class-action lawsuit has been filed against Beyond Meat, alleging that the company makes false ingredient claims over the amount of protein in their products.
Investors managing $14 trillion in assets have written to the UN asking for a global plan to reduce agriculture's GHG emissions. They note that food production accounts for a third of global GHG emissions and is the main threat to 86 per cent of the world's species at risk of extinction.
New Zealand has published plans to have farmers pay for emissions from livestock. The country has 5 million people, 10 million cattle and 26 million sheep.
In Australia, the prices for lettuces have spiked after heavy rains along the west coast wiped out much of the crop. KFC said it would put cabbage in its burgers instead.
Finally, it was only a matter of time before people started blaming traders and hoarders for the rise in food prices.
© Commodity Conversations ® 2022
Many of the above links require subscriptions. Please support quality journalism.