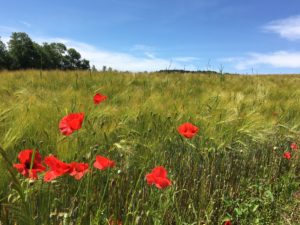 At this week's G7 meeting, the world's wealthiest nations committed $5 billion to fight global hunger. Activists said that the sum falls short of what is needed, with millions of people on the brink of starvation.
Germany and the UK pushed the G7 meeting for a temporary waiver on biofuel mandates, but the proposal didn't make it to the final communique.
The UN warns that the world faces an unprecedented hunger crisis, with a risk of multiple famines this year. There are worries that global crop problems could result in years of high food prices.
Talks continued this week to allow Ukraine to restart grain exports, but no one is optimistic about their outcome. Russia has accused the West of lying about the reasons for food shortages but at the same time bombed grain terminals in the Ukrainian port of Mykolaiv.
Egypt has bought 180,000 mt of wheat from India and is looking to add potato flour to subsidised bread. India is turning to rice bran for vegetable oil and animal feed.
Parts of Italy are suffering their worst drought for 70 years, with saltwater incursion adding to farmers' problems. Heatwaves and fires threaten Tunisia's grain harvest. Dry weather is impacting crops in Argentina.
The BBC reports that UK farmers are cutting production due to high fuel and fertiliser input costs.  High fertiliser prices are an acute problem in Africa, where up to 20 million people in the Horn of Africa could go hungry. Farm input shortages are also negatively impacting production in the US.
Malaysian authorities are encouraging palm oil producers to keep supplying factories despite a 22 per cent drop in palm prices over the past month. Times are also challenging for Indonesian palm oil farmers.
The US FDA has approved Argentine biotechnology firm Bioceres' GM wheat. The USDA still needs to approve the drought-resistant HB4 wheat before it can be sold in the US.
The Guardian writes that farmers "are beholden to a handful of big corporations who set commodity prices" and "have little leverage to implement more sustainable practices."
In a separate article, the newspaper asks why we feed crops to our cars when people are starving. It cites a report from the NGO Green Alliance.
The newspaper also worries that climate change is responsible for a shortage of (randomly) mustard, chilli peppers, coffee, and wine.
On the good news front, the Guardian cites a recent study that shows farmers can achieve high yields with less fertiliser. The newspaper wonders whether 'peecycling' could be a solution to the world fertiliser shortage. (Each of us produces enough pee a year to fertilise 145kg of wheat.)
Research by the University of Cambridge finds that intensive farming may reduce the risks of pandemics.
Nestlé and Unilever have promised to remove deforestation from their supply chains.
Finally, the FT has an excellent review of recent books looking to reinvent agriculture. They are all written by non-farmers (except for one writer who took up farming four years ago). Perhaps farmers don't have time to write books.
© Commodity Conversations ® 2022
Many of the above links require subscriptions. Please support quality journalism.