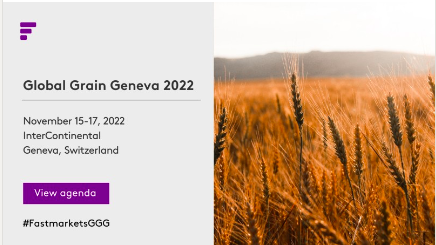 The UN is optimistic that the Ukrainian grain deal will be extended beyond mid-November. However, Russia's UN ambassador said Moscow must first see movement on its own exports.
Kyiv has accused Russia of blocking the full implementation of the current agreement, and the UN said that urgent steps are needed to relieve a backlog of more than 150 ships. Vessels now wait 14 days for inspection.  A total of 397 vessels have exported nine million mt of Ukrainian grains and oilseeds since the corridor opened in August.
Ukraine has kept its forecast for winter wheat sowing at 3.8 million ha, down from 6 million ha for the 2022 harvest (of which farmers harvested only 4.6 million hectares). Bloomberg has an interesting piece on the Ukrainian situation with an interview with the son of the late founder of Nibulon.
Pakistan's tender for 500,000 mt of wheat kept traders busy this week. Russia's state trading company Prodintorg (remember them) raised the idea of a government-to-government deal to exchange wheat for rice and potatoes.
Meanwhile, India is considering importing Russian wheat to process and reexport it as flour and pasta.
Drought could reduce Argentina's 2022/23 wheat harvest to 13.7 million mt, down from a previous forecast of 15 million mt. The harvest could be the worst in seven years and well below the record 23 million mt last year.
Severe flooding is likely to reduce Australia's wheat production. A farmer told ABC, "You spend all this money preparing your paddocks, sowing your crops, fertilising, and spraying them, only to see them wiped out a couple of weeks before harvest. It's heartbreaking."
Brazil's soybean farmers are holding back new crop sales in the expectation that La Nina may cause drought losses. China is suffering a nearby shortage of soybean meal, leaving farmers short of animal feed. China's soybean crush volume declined last week, as did soybean stocks.
French farmers have said high energy costs could lead to bottlenecks in the food supply chain. Swiss dairy farmers face an acute forage shortage after the dry summer. Fodder prices have increased 40 per cent since last year.
The EU has forecast its drought-hit maise (corn) harvest at a 15-year low of 54.9 million mt, down from an earlier forecast of 55.5 million.
Mexico will push ahead with its 2024 ban on GM corn. The government said the ban could halve US corn imports and expect domestic production to make up the shortfall.
India has approved GM rapeseed, paving the way for the commercial use of its first GM food crop.
Climate change could make coffee cultivation in India uneconomic. The sector is already struggling with high costs and a labour shortage.
Bolivia has suspended exports of food products, including soybeans, grains, sugar, oil, and beef, to safeguard domestic food security.
Hurricane Ian caused as much as $1.8 billion in damages to Florida agriculture last month, with the most significant losses coming from citrus.
The European spot price for gas briefly turned negative last week following a steep drop in consumption. The FT cites EU fertiliser production as one of the low-value-added businesses that ceased operating. Meanwhile, Brazil has reexported its second fertiliser cargo due to a lack of domestic storage capacity.
ADM reported a 96 per cent increase in its third-quarter profit, bolstered by high demand and tight global grain supplies. Bunge posted better-than-expected results for the quarter and raised its full-year earnings outlook. Analysts expect both companies to gain from the rise in US renewable diesel.
In what could have a significant impact on the European biofuel sector, the EU has agreed on a zero-emissions sales mandate for new cars and vans by 2035, effectively banning the sale of new internal combustion engine cars from that date.
The Global Alliance for the Future of Food published a report showing that global governments direct only three per cent of their climate dollars toward food and agriculture systems.
An Uyghur organisation and a human rights group are taking the UK government to court to challenge Britain's failure to block the import of cotton products from China's Xinjiang region.
Shipping companies are trying out technologies that blow bubbles underneath a ship's hull to save fuel and reduce emissions.
Mondelez has said it would commit an additional $600 million in sustainability funding for cocoa until 2030, on top of $400mn invested over the past decade.
Callebaut has launched second-generation chocolate with around 50 per cent less sugar and 60-80 per cent more cocoa than traditional chocolate. The company wants to 'put cocoa first, sugar last'.
Finally, a US billionaire wants to disrupt the food supply business with a van that turns up at your doorstep and cooks your dinner on the spot.
Some of the above links require subscriptions – please support quality journalism.  My next news summary will be published on 18th November.
© Commodity Conversations ® 2022